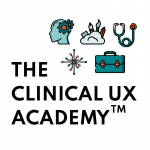 Clinical UX Course 2022 Syllabus
This syllabus outlines the units, modules and topics covered in the Clinical UX Academy.
The main Clinical UX (CUX) course is composed of 3 units, Fundamentals (Fun.), Applied (App.) and Advanced (Adv.) CUX. Existing UX professionals or those who have learned UX from other courses can enter the CUX Course from Unit 2: App. CUX.
A fourth unit, Professional Development in CUX, is a BONUS unit for students taking the CUX Course.
A more detailed description of each unit is provided below.
FUNDAMENTALS OF CUX
This unit provides the foundational knowledge on CUX, ideal for those who are new to UX. The purpose of the unit is to ensure students understand the core terminologies and develop the core skills of a UX professional, within the context of working in healthcare. The Fun. CUX unit contains 5 modules described below.
APPLIED CUX
This module builds on a foundation of UX knowledge and teaches students how to apply UX skills and knowledge to healthcare. The purpose of the unit is to ensure students understand the additional information of healthcare as an ecosystem and the many people and processes that it contains. It comprises the 5 modules shown below:
ADVANCED CUX
This final unit in the CUX course deals with the most advanced and complicated areas of CUX with the study of prior units, or experience in healthcare UX being required. Students learn more about designing for ambiguity and innovation, particularly useful for ambitious projects that are using complex technology and processes to solve complex problems. 
The Adv. CUX unit contains only 3 modules, but more assessments and assignments than the Fun. CUX and App. CUX modules.
Teachings on various technological innovations and how to use them effectively given current limitations and future potential 
Emerging Technology; overview of new and advanced technology


Augmented Reality and Virtual Reality in Healthcare

;

details on AR and VR and how they can be used in healthcare

Artificial Intelligence in Healthcare

;

details of AI and how it can be used in healthcare


Ubiquitous Computing and Future Interface

s

; using technology in multiple locations seamlessly


Effective use of Emerging Technology

;

worked examples of emerging technology used in action

 
Lessons on how to improve intricate and immense problem situations and bring efficiency to sophisticated processes and working conditions
Socio-Technical Systems in Healthcare; understanding the complex web of people and technology 


Soft Systems Methodology

; a tool to solve

wicked problems

.


Exploring through Rich Pictures; a unique form of experience mapping


Concluding through Root Definitions; find the root solution to a complex problem


When Healthcare IT projects go wrong

; examples of poorly solved socio-technical system problems
Teaching on how to raise the profile and use of UX within a team, and embed UX practice throughout an organisation, guidance on how to deal with factors that hinder successful UX practice.
Introduction to UX Maturity

;

details of how to measure the effectiveness of UX output 
Raising UX Maturity in healthcare: strategies to increase the presence and use of UX professionals


ABC of Successful Teams; a team working framework


ROI and KPIs in Healthcare; how to measure the success of UX in healthcare.


Business planning

: how to document the goals for a business and details on how to achieve them.
BONUS: Professional Development in CUX
This bonus unit is composed of topics that support the ongoing development of CUX professionals and the profession at large:
Identity as a Clinical UX Professional; defining identity and what it is important


S.T.R.O.N.G. Personal Branding; features all effective personal branding should have


Pursuing Purpose; living a life of purpose, and enjoying it


Managing Impostor Syndrome; strategies to identify and respond to feeling inadequate or undeserving at work.


Professional Development Planning; identifying ways to become the best version of yourself


Mentoring, coaching and supervision

; how to get the most out of mentors, coaches and supervisors, including details on how to provide such services too.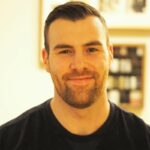 "Enrolling as a student in the Clinical UX Academy has been one of the best decisions I've made across both my academic and professional careers. As well as core principles in UX and Interaction Design, the course has equipped me with domain-specific knowledge in applying UX skills to healthcare and the clinical environment.
Combined with a background in psychology, I can confidently state that the course has directly helped me to begin a career as a Clinical UX Researcher. Dr Morrison is also an exceptional teacher and an even better individual; he has demonstrated a genuine care for each of his students throughout the duration of the course offering regular feedback and career mentoring.
I'd strongly recommend this course for clinicians or academics wanting to work in digital health design, or UX professionals wanting to specialise in healthcare."
Jack Burton
Clinical UX Researcher at Graphite Digital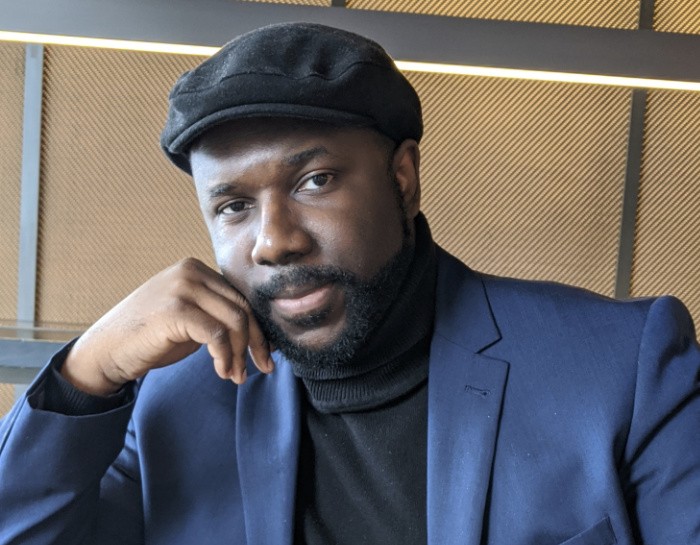 Dr Gyles Morrison MBBS MSc
Clinical UX Strategist & Digital Healthcare Consultant
Gyles has been working in Clinical UX and Digital Health since 2014, and has been in teaching and training for over 10 years. He has taught thousands of people around the world on the topic of  healthcare UX for universities, UX courses, conferences. 
His professional work as a Clinical UX Strategist has also taken him across the globe, working for digital health starts-ups, the NHS and large Pharmaceutical companies.
After graduating from Bart's & London School of Medicine and Dentistry in 2011, Gyles worked as a medical doctor for three years. He then completed an MSc in Human Computer Interaction with Ergonomics at University College London in 2018 to bolster his skills and knowledge in UX and design, with a special interest in Healthcare.
Ready to become a Clinical UX Specialist?
Students who already UX professionals or have completed a recognised UX course can now enroll for an April 2023 start.
First, decide which units you would like to take.
Below are details of course fees.
We also offer scholarships for candidates who need financial assistance, which you can find more information on here. 
Students have three course options to choose from:
Have a question about Enrollment?
Simply complete the form below to and we'll get back to you as soon as possible.
*You will be subscribed to our mailing list so we can update you. But you can unsubscribe at any time. We take data privacy very seriously, find out more by reading our Privacy Policy.
FREQUENTLY ASKED QUESTIONS